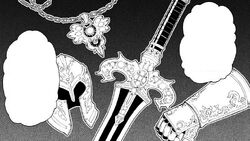 Masquerade Metal is an ancient special alloy laced with magic from Live-Earth. It's able to always maintain its shape even after heavy shock and if infused with magic power it can even transform. It is said that the quantity of this alloy has been dwindling throughout the ages but now nobody know how to make it anymore so it's considered "Lost Technology". The Masquerade Metal is shiny like gold and sturdy like steel.
Community content is available under
CC-BY-SA
unless otherwise noted.